Deirdre K. Tobias, ScD
Assistant Professor of Medicine, Harvard Medical School
Associate Epidemiologist, Brigham and Women's Hospital
dtobias@bwh.harvard.edu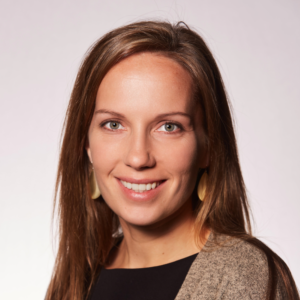 Dr. Tobias is a nutrition and obesity epidemiologist and Assistant Professor at the Brigham and Women's Hospital and Harvard Medical School. Dr. Tobias received her doctorate in nutrition epidemiology at the Harvard TH Chan School of Public Health and completed her postdoctoral fellowship under the mentorship of Dr. Frank Hu. Her primary research interests include identifying dietary and lifestyle risk factors for prevention of obesity-related chronic diseases, including diabetes and cancer. She holds a secondary faculty appointment at the Harvard TH Chan School of Public Health and is co-instructor for nutrition epidemiology.
BA: College of the Holy Cross
SM: Harvard School of Public Health
ScD: Harvard School of Public Health
Tobias DK, Pan A, Jackson C, O'Reilly E, Ding E, Willett W, Manson J, Hu FB. Body mass index and mortality among adults with incident type 2 diabetes: results from two prospective cohort studies in U.S. N Engl J Med. 2014 Jan 16;370(3):233-44. PMCID: PMC3966911.
Tobias DK, Chen M, Manson JE, Ludwig DS, Willett W, Hu FB. Effect of low-fat diet interventions versus other diet interventions on long-term weight change in adults: a systematic review and meta-analysis. Lancet Diabetes Endocrinol. 2015 Dec;3(12):968-79. PMCID: PMC4667723.
Tobias DK, Zhang C, Chavarro J, Olsen S, Bao W, Bjerregaard AA, Fung TT, Manson JE, Hu FB. Healthful dietary patterns and long-term weight change among women with a history of gestational diabetes mellitus. Int J Obes (Lond). 2016 Nov;40(11):1748-1753. PMCID: PMC5101125.
Tobias DK, Stuart JJ, Li S, Chavarro J, Rimm EB, Rich-Edwards J, Hu FB, Manson JE, Zhang C. Association of history of gestational diabetes with long-term cardiovascular disease risk in a large prospective cohort of US women. JAMA Intern Med. 2017 Dec. 1;177(12):1735-1742.
Tobias DK, Lawler PR, Harada PH, Demler OV, Ridker PM, Manson JE, Cheng S, Mora S. Circulating branched-chain amino acids and incident cardiovascular disease in a prospective cohort of US women. Circ Genom Precis Med. 2018 Apr;11(4):e002157.